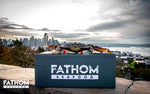 A featured news blog post about Fathom Seafood by Lauren Kramer with the Global Aquaculture Alliance about the state of Pacific Northwest Shellfish companies and the pivot to domestic markets. 
..."The U.S. doesn't really have a culture of eating live seafood, with the exception of some small pockets," he said. "But we've learned that local people are super excited to have access to live product they've never had before. The first day we opened our farm stand all we had was a homemade stand by the side of the road with a small tank to hold the crab, and still we made a profit. It wasn't record numbers but it shows us there's potential."...
Read the rest of the article here: https://www.aquaculturealliance.org/advocate/pandemic-persists-and-pacific-nw-shellfish-sector-digs-in/


  Find sustainable live Dungeness crab at Fathom Seafood today.