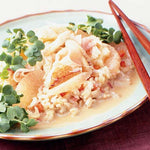 Image Credit / James Carrier via My Recipes
This recipe will tickle your tastebuds and satisfy your craving for Dungeness crab. It yields the perfect combination of savory and zesty and can be served as a main course or as an appetizer. While many don't necessarily think about citrus going well with Dungeness crab, it truly does. If you browse through other Dungeness recipes, citrus is often used in dips, such as a lemon butter aioli. So why not include a bit of zest into the actual meal? 
This salad can be served year round, although fresh, in-season Dungeness crab are generally available November through June. If you are interested in buying yours locally straight from the source, Fathom Seafood has the best selection. The best part about buying from Fathom is that you can purchase your Dungeness crab with a click of a button and will see it on your doorstep within 24 hours. 
This recipe makes 4 to 6 servings, so make sure you share it with others! 
Ingredients 
1 cup long-grain white rice

2 cups fat-skimmed chicken broth  

6 tablespoons rice vinegar 

1 tablespoon sugar 

About 1/3 cup sliced pickled ginger 

1 red bell pepper (8 oz.), rinsed, stemmed, seeded, and finely chopped 

2 or 3 ruby grapefruit (2 to 3 lb. total) or 4 to 6 blood oranges (1 1/2 to 2 1/4 lb. total) 

1 pound shelled cooked Dungeness crab (about 2 1/4 cups) 

Sesame cream dressing

About 8 ounces daikon sprouts, root ends trimmed, rinsed, and drained
Instructions
**Note- it is best to cook Dungeness crab ahead of time. 
Turn the stove on high heat and start by combining the rice and broth in a 1 ½ to 2-quart pan. Once it is brought to a boil, reduce heat and cover the pan. In about 20 minutes, the rice should be tender enough. 


While the rice is cooking, take a large bowl and mix in rice vinegar and sugar. 


Once the rice is finished cooking, add it to the bowl and mix with a fork. Let cool for about 30 minutes. 


Add in the sliced pickled ginger and bell pepper and stir the mixture with a fork once again. 


Cut grapefruit or blood oranges and take away the peel and membranes. Add fruit into the bowl. 


Get the cooked crab out and ensure it is separated and ready to serve. 


Serve rice mixture in a mound on dinner plates. Top with delicious Dungeness crab and grapefruit/blood orange segments.



Add sesame cream dressing and grapefruit juice to taste over the salads. Feel free to garnish with daikon sprouts and pickled ginger slices. 
This citrus Dungeness crab recipe will make your mouth water and leaving you wanting more!