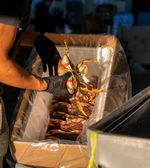 Crab season is not every season. Even though crabs are out and about, that doesn't mean they are ready to be caught, or that it is alright in sustainability-terms to catch them at that moment. This is true for the Dungeness crab; there is a particular time of year fishermen and women are allowed to catch them and there are other factors that are monitored such as the number available to catch. 
How do you know when it is catching season for a particular seafood?
Each state has its own regulations; recreational versus commercial fishing are going to have different laws and regulations, as will whether you are fishing in freshwater or in the ocean. 
According to America Go Fishing, fishing licenses and regulations depends on the following:
The state you are fishing in

Where you will be fishing

How long you expect to fish

What type of fish you want to catch

The fishing method you will be using

Resident status in that state

If you plan to sell, eat, or release the catch

Your age

If you are active military 
What about the Dungeness crab?
A typical crabbing season runs from around November to June or July, although like stated before, some factors can cause the start or end date to vary. 
Let's take a look at the information that is on the Washington Department of Fish and Wildlife's site.
They list 13 popular crabbing areas, which also displays the status (open or closed), the days open, and the season dates. 
Off of Washington state's coast and in Puget Sound, recreational crabbing is allowed during allotted times, sometimes even year-round. Here at Fathom Seafood we are able to harvest sustainably caught Dungeness crab all year round. 
On the Oregon Department of Fish and Wildlife site, they provide weekly updates as to the status of crab season. "ODFW collects and tests crabs (for meat quality) out of the six major crabbing ports in Oregon. Weekly testing updates, along with information about season opening status will be posted below. Weekly updates will be provided until the decision to open the season is made."
They also provide a wealth of information on the Dungeness crab fishery. 
What factors have postponed Dungeness crab season this year in 2020 in certain areas?
Some factors that have recently disruptive Dungeness crab season are weather, declining economy, and the late migration of other fish and mammals. 
For example, at the beginning of 2020, when crab season should have begun, fishermen and women had to postpone heading out due to relentless storms.
Also, due to financial challenges to the economy, coastal towns and charters are seeing a huge decline in tourists and recreational fishing. There just isn't money. 
The Bay Area had to postpone for the second year in a row due to whales migrating off the coast during the Dungeness crabbing season; if fishermen and women began, it would be a risk to the whales, who may get ensnared by fishing lines. When fishing or crabbing, it is not only about the species being caught; people must also take notice of the species around and what may affect them. 
Also in California as well as Oregon, experts chose to delay commercial crab season due to the crabs not meeting the minimum weight requirements for the season to begin. 
According to a release, "Samplings conducted on Oct. 27 and Nov. 12 did not yield valid results because the total poundage collected did not meet the minimum criteria established by the Tri-State Dungeness Crab Committee.
Of course, year after year, even month after month, fishermen and women have to wait and see what their state and federal regulations will say about the start and end of the fishing season. Anything can happen; most of it out of their control.  
Commercial Dungeness crab fishermen and women have high hopes as the season begins in a few days that their catch will be large and that they will be able to bring in enough money to support their families, their community, and the company. 

Fresh seafood like Dungeness crab legs are delicious and make for a great healthy dinner for family and guests. 
In the meantime, you can still order live Dungeness crab from Fathom Seafood. 
Check out their site, their sales, and what they can offer you and your next meal.