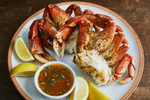 Crab legs are quite a popular meal, especially among restaurants and homes along the Northwest coast where the Dungeness crab are caught. Eating crab legs is like an experience; you get to use tools, you get to learn about the specific ways of cracking the crab in the right places, and then you get your own meat out. It definitely takes some work...but it's worth it! Live Dungeness crabs, which can be bought from Fathom Seafood out of Tacoma, Washington (or on their website), are ready to go in the pot and get cooking for the simple and delicious crab leg meal below. 
Steamed Dungeness Crab Legs with Herbed Butter
If you don't want to spend a lot of time prepping and cooking your meal, this recipe is the way to go. It is quick and easy and puts a seasoned spin on the traditional crab leg meal. 
INGREDIENTS
2 Dungeness crab clusters (the legs) 
1 cup water
½ cup white wine
2 lemons, quartered
3 tablespoons fresh basil or tarragon, minced
2 teaspoons Old Bay seasoning
1 stick butter, melted
Salt and pepper, to taste
STEPS 
The night before, begin thawing your Dungeness crab clusters for 8-10 hours. 


Prepare a steaming broth by taking a large pot and adding in your water, white wine, one lemon (quartered), and 2 tablespoons of the fresh herbs. Place a steaming basket in the pot and bring to a boil.


Your Dungeness crab is ready to be steamed—place it in the steaming basket and sprinkle it with 1 teaspoon of Old Bay seasoning; allow to steam for 5 minutes.


To make the butter sauce, add butter to a small bowl along with the remainder of the fresh herbs and Old Bay seasoning and mix together. 



It's time to serve! Remove Dungeness crab clusters from the pot and drain any excess water. The sauce and remaining lemon will spice up your crab legs in a delightful way. 
Popular ways to cook Dungeness crab legs are to:
oven-roast them;

boil them;

steam them;

grill them; or

use an Instant Pot to cook them! 
Dungeness crab has such a unique, sweet flavor to it—you really can get creative with your recipes. And crab legs, of course, are always a hit for family meals, parties, and holiday celebrations. If you are in need of live Dungeness crab for your future meals, check out what Fathom Seafood has to offer. Once you purchase your crab online, they will ship it to you fresh within 24 hours! 
Recipe Sourced From Sitka Salmon Shares