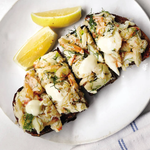 Image Credit: Epicurious
Get fancy and fabulous with this succulent spring recipe, where plenty of flavor is loaded into small crunchy bites. Your taste buds will thank you!
Add to your culinary repertoire by making this dish.
Impress guests by serving this delightful crab toast as an appetizer at an event or bring it out as a main dish during a seasonal luncheon. Either way, people will rave about it. 
Check out all of our Dungeness Crab Recipes!
Preparation
The aioli can be made 1 day ahead and crab meat mixture can be made up to 2 days ahead; be sure to cover and chill both if you do decide to prep ahead of time. 
Note: Raw egg is not recommended for infants, the elderly, pregnant women, or people with weakened immune systems.
Ingredients 
Lemon Aioli
1 large egg yolk

1 garlic clove, finely grated

1 tsp finely grated lemon zest

2 tbsp (or more) fresh lemon juice

1 tsp Dijon mustard

Kosher salt

1 cup vegetable oil
Crab Toast
8 oz fresh live Dungeness Crab meat or lump crabmeat, picked over 

2 tbsp chopped fennel fronds

1 to 2 serrano chiles, seeded, finely chopped

6 tbsp extra-virgin olive oil, divided

4 3/4"-thick slices country-style sourdough bread

lemon wedges, for serving
Directions
Lemon Aioli
In a medium bowl, add in egg yolk, garlic, mustard, lemon zest and juice, and a large pinch of salt, and whisk together. While whisking, slowly drizzle oil into the bowl until aioli is smooth and thick. At this time, season with salt or more lemon juice, or whatever your taste buds desire. 
Crab Toast
In a separate medium bowl, add in crab meat, fennel, 1 chile, and 2 tbsp of oil. Toss together and add additional seasoning if desired. 


Take sourdough bread and drizzle both sides of each piece with oil; toast bread for about 2 minutes per side until golden brown on a skillet over medium-high heat .


Spread each piece of toast with 1 tbsp aioli. Top toast with crabmeat and cut each large piece of toast into 4 smaller pieces. 



To garnish, place a small dab of aioli in the center of each piece of toast; serve with lemon wedges. (Extra aioli can be used for dressings or dips.)
Voilà! Your crab toast with lemon aioli awaits you and your guests.
When on the search for fresh crab meat for this recipe, look no further than Fathom Seafood's live Dungeness crab selection. They offer the best and the most fresh, and you can conveniently order online. Receive your order within 24 hours and get cooking!