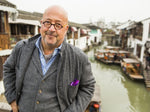 Image Credit / OnMilwaukee
He loves bizarre foods and eclectic cuisine experiences. He is also a chef, author, traveler, and popular television host—among other things.
Andrew Zimmern is a jack-of-all-trades, and most importantly, a culinary genius. Food has bewitched him: he travels to get to it, cooks it, writes about it, judges it, eats it, promotes it, researches it, celebrates with it, and helps others have access to it. 
The Travel Channel show, Bizarre Foods, which Zimmern is well-known for, features worldwide excursions where his digestive system is thankfully not affected by the obscure and bizarre delicacies he publicly ingests. The show's purpose is more than entertainment; Zimmern opens the eyes of viewers to a world of history, culture, and adventure. 
Recently, Fathom Seafood sent Andrew their delectable, live Dungeness crab for him to feature on his social media platforms.
The video was quite popular, as it was liked by several thousand fellow Instagrammers. 
On his YouTube channel, Zimmern (while wearing a nautical-inspired apron in his kitchen studio) features Fathom's own Dungeness crab in a video teaching viewers how to properly clean one. 
You'll have to watch the full video to learn the specifics from our expert chef; however, here are 10 of his many useful tips when cooking with Dungeness. 
Order and prep your crab for cooking, and make sure you find a hefty, dense one. 

One Dungeness crab per person is the rule of thumb. 

Spice things up with a seafood seasoning blend.

Don't count your cooking time until the water begins to boil once again with the crabs in the pot.

Once boiled or steamed, allow crabs to sit in the pot for an additional 5 to 10 minutes.

You can eat more parts of the crab than you think.

Don't rinse the crab if you want to keep the brine flavor.

Use the shells as a dish and the juices for other purposes.

There are various methods for getting to the meat. It's all about the meat!

 Using a lobster cracker will leave too many shell pieces in with the meat. 
He makes it look too easy! The video is incredibly helpful for those who may be new to cooking with Dungeness or for those who need to learn a few new tricks of the trade.
On top of being a marvelous culinary artist, Zimmern also owns and runs 3 businesses under one roof. Food Works, Inc, a multi-media and brand company, Intuitive Content, his full-service television and digital production company, and Passport Hospitality, a restaurant and food service development company.
If readers are interested in learning more about what Zimmern has experienced, check out his website where you can browse recipes, books he has authored, and learn about his appearances and partnerships.
As stated previously—Andrew Zimmern is a jack-of-all-trades.
Here is a huge shoutout to Zimmern for graciously allowing Fathom Seafood's live Dungeness crab to be featured in his videos and recipes.
Follow Fathom Seafood on Instagram for more delicious recipes and order your crabs today, conveniently through their website. 
Did you know that you can now also order live geoduck from Fathom? 
Zimmern is awesome. Zimmern is a fan of geoduck. Be like Zimmern. 

Order your live Pacific Northwest geoduck today.