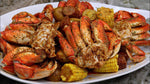 Photo rights to Island Vibe Cooking
Island Vibe Cooking is a youtuber, social influencer, and recipe developer that specializes in Caribbean Cooking and taking everyday dishes and adding that special island flair. When asked to help develop a Dungeness Crab Recipe that featured Fathom Seafood's live Dungeness crab, she immediately started thinking of how to bring the flavor of the islands to this Pacific NorthWest favorite.
The Dungeness crabs arrived "Very alive and very fresh" and "its so good and its sweet, yalls just have to get your hands on some live crab!". The crabs arrived from coast to coast and straight to them with no issues or delays. (thanks UPS!)
We can't wait to make this ourselves! The weather in the Pacific Northwest is getting into those long and dark winter hours and this recipe is just the right thing to bring a little island vibe into our daily lives! 
Check out the video and follow the steps. Its easy! And the ingredients can be found in any cupboard. But what makes it magical is the steps, process, and timing. 
You can follow Island Vibe cooking on their Youtube Channel, Instagram, and Facebook. As well as her Husband's channel "Whip it up with Jay" where he develops recipes and shares his own take on classics. 
To get your own fresh LIVE Dungeness Crab check out our store at Fathom Seafood and order some today. This would be an amazing recipe for the next upcoming football party, a birthday party, or just a dinner for two (or one!).