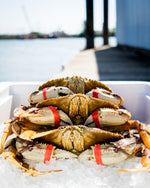 We love hearing customer feedback about the Live Dungeness Crab we help provide. Packed along with every shipment of Crab is a Postcard that you can use to send to your friends, family, or straight back to us. We've been receiving these postcards and hearing stories about our live crab shipments. 
Here is a one we just received a few days ago! We're ecstatic about being able to help build traditions and bring the best live Dungeness crab to everyone in the United States. 
Have you tried our crab yet? If not, order a box today and use discount code "fathom10" for 10% off your first box!